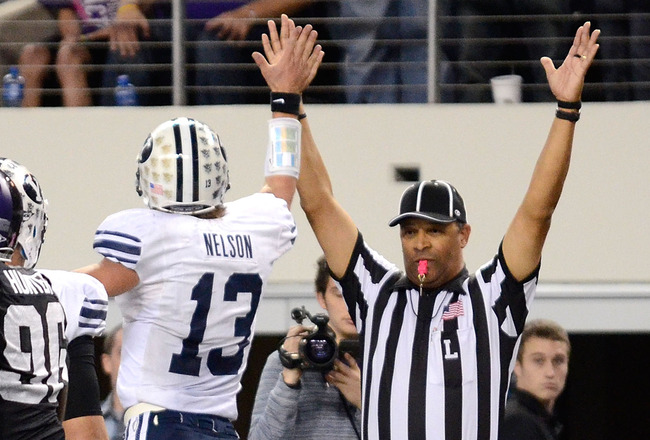 Sarah Glenn/Getty Images
***From May 20 to June 18, we polled BYU fans on Twitter and Cougarboard to find out what they were thinking about the upcoming season. We received a total of 160 responses from 5 different countries, although not every participant answered every question. The survey results will be posted through a series of posts. This is the first post. Enjoy!
I think if you had polled BYU fans a year ago and told them Riley Nelson was going to be THE quarterback option for the 2012 season, some would have called you a liar and some would not have had high hopes for the upcoming season. Some, on the other hand, would have immediately liquidated all of their assets and gone into hiding, fearing the worst was near.
Despite the backlash from the time of Riley's 2011 emergence to Jake Heaps transfer to Kansas, I think most of Cougar Nation has settled down to a feeling of acceptance and optimism. While some might already be clamoring for the unknown potential of a backup QB, most are ready to go with Riley.
But what do BYU fans really expect from Riley this year? Here's what they had to say:
PASSING YARDS (158 responses)
AVERAGE RESPONSE: 2,970 yards
INTERCEPTIONS THROWN (158 responses)
AVERAGE RESPONSE: 11-12 INTs
2012 QB RATING (158 responses)
AVERAGE RESPONSE: 155.8 QB Rating
QB RUSHING YARDS (156 responses)
AVERAGE RESPONSE: About 520 rushing yards


QB RUSHING TOUCHDOWNS (157 responses)
AVERAGE RESPONSE: About 4.75 rushing TDs
So, based on the survey responses, the average stat line for Riley Nelson is the following:
2,970 passing yards

60% completion percentage

26-27 TD passes

11-12 INTs

155.8 QB Rating

520 rushing yards

4.75 rushing TDs
Not a bad season if it happened this way. We could do a lot worse (and have recently, if I'm not mistaken) than 3,500 total yards of offense and more than 30 total TDs from the QB position.
With the exception of rushing touchdowns, the survey responses didn't seem to reflect any major increases or decreases in production from Riley Nelson. I expect improvement from him, and it will be interesting to see how Riley does now that he has and will continue to get the majority of practice reps.
NEXT POST: THE RUNNING BACKS