If you're anything like me, beside being 5'11 and named "Scott," you watched pretty much every aspect of the 2011 BYU Football Media Day. Here are a few things I took away from the day's events:
1. The Players Are Excited
Listening to the players, especially Corby Eason, talk about the upcoming season is incredibly exciting. I can't help but be excited by Eason's frequent use of the phrase "I can't wait!" in interviews. Certainly the players aren't going to say "I guess so" or "Meh" when asked if they're excited about the 2011 season, but they seem to know what they have on the team, and they're excited by it.
2. The Coach Is Excited
BYU coach Bronco Mendenhall isn't going to be confused with
The Pointer Sisters
, but luckily he won't be confused with
Saved By The Bell's Jessie Spano
. BYU fans will likely agree that Bronco just looks like a new guy lately. He talks about how independence has reinvigorated him, and I think it shows. The stresses, disappointments, and coming-together of the 2010 team was a huge bonding moment for him and the players, and I think his excitement for 2011 will rub off on everyone associated with the program.
3. The ESPN Deal Is Even Better Than We Thought
I'm not sure how many of us thought we were going to be able to watch 10 of BYU's games on the ESPN family of networks during the 2011 season, but that's what we're looking at. It'll be 11 when the team becomes bowl eligible, which I am hoping is after the 6th game (ohpleaseohpleaseohplease!). This added exposure is going to be huge. For a guy like me, who lives 1,500+ miles away from Provo, ESPN is making it A LOT easier to follow BYU football.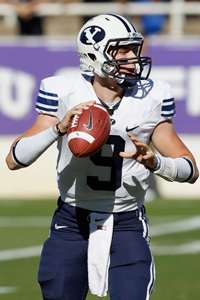 4. Jake Heaps on Utah State
Like pretty much anyone else reading this blog, I was enraged by the Utah State game. It wasn't just the defense playing uninspired football. It wasn't just the lack of communication/success between the QB and WRs. It wasn't just my sister betraying our family and sitting in the USU student section while wearing a USU t-shirt (she also stormed the field - SHAME!). It's all of those things. I knew I was looking forward to the 2011 game, but I wasn't sure if the players shared that same feeling.
At Media Day, when asked about the 2011 schedule, Jake Heaps said, among other things, "We want that one back" about the USU game. In most seasons, that game isn't even mentioned (Idaho State, San Jose State, New Mexico State weren't mentioned), but the fact that it was and Heaps said that about it tells me everything I need to know about the players' mentality against Utah State. Yes, BYU will absolutely destroy Utah State this year, but not just because of USU's inherent inferiority. It is because the players know that game is when they hit rock bottom in 2010. That's a game they want back, because it was the worst one they played last season. That'll stick in their minds until rectified...and it will be rectified.
5. The "Legends Roundtable" Was Awesome

Whoever came up with the idea of putting those guys (Lavell Edwards, Ty Detmer, Trevor Matich, Bryan Kehl, and the satellite appearance of Steve Young) is a genius. Even though Edwards, Detmer and Young sort of dominated the conversation, it was great because of the way they played off each other and joked around with each other. Lavell still has a fantastic sense of humor, and I hope to see stuff like this every year. Also, I wouldn't be against seeing a basketball version of this some time in the future.
6. The Fans Should Be Excited:
It doesn't take an Under Armour commercial to show that you don't have a pulse if you aren't fired up for this season. Yes, the home slate kind of sucks, but that will be a short-term problem. Teams like Texas, Boise State, Notre Dame and others are definitely coming to Provo, and others are in the works. The 2011 season looks very promising for BYU, and 2012 looks even brighter.