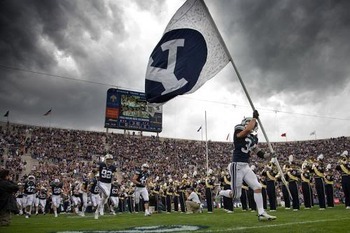 At the start of every football season, we have the opportunity to prognosticate as to what will happen in the following months. Some BYU fans have extremely high hopes and dream of undefeated seasons and BCS glory, while others remain staunchly pessimistic, claiming we will be lucky to get 5 wins. Both parties pride themselves on bold statements.
I am a fan of bold statements but only if they are somewhat realistic. Sure, Jake Heaps has a chance at winning the Heisman, just like I have a chance at pitching in the World Series for the Phillies.

Below are a few of my bold statements concerning this season. Some of them might be a bit surprising, but they are backed by some logical though.

J.J. DiLuigi will be the most important skill player behind Jake Heaps
Ever since he came to BYU, it seems as if DiLuigi has been flying somewhat under the radar. His freshman and sophomore seasons were spent in the shadow of Harvey Unga, and last year he split time with Brian Kariya and fan-favorite Joshua Quezada. Most will forget last year he led the team in rushing AND receiving yards. He might not have the numbers he did last year, but he will be vital is the success of the offense.

It's no secret J.J. is not the biggest guy on the field, but he makes up for it in almost every way. He has great field vision and follows his lead blockers very well. He doesn't have breakaway speed, but he has great quickness that gives him separation when running routes. It's these small intangibles that will allow him to make big plays. Apo, Hoffman, Quezada and others will have their time to shine, but J.J. will be the difference maker.



Brandon Ogletree will be the defensive MVP
Most BYU fan want to reserve this title for a certain USC transfer, but Ogletree will have a big year. He had a knack for making big plays last year and playing consistent every game. If he can stay healthy he will be the leader of the defense and set the tone for this inexperienced but talented squad.


BYU fans have been counting down the minutes until they can see the new offensive changes Brandon Doman will bring to the table. Having Doman at the helm will be a significant upgrade, but, most importantly, the offense will benefit from having a capable wide receivers coach. The performance of last year's wide outs was uninspiring at best, and a lot of that had to do with the position coach Patrick Higgins. Players said he was strange and lacked the players' respect.

With Ben Cahoon, the receivers have someone they can learn from and respect. Unlike years past, BYU's crop of receivers are physically gifted. Hoffman has size, Jacobsen has speed and Apo has both. What they can really improve upon is their route running. Cahoon made a living in the CFL running crisp routes and creating separation. If Cahoon can teach the WRs his craft, then we should see some great improvements.



BYU will beat TCU
It would be a gross understatement to stay TCU has dominated BYU the last three seasons. The Cougars scored a measly 17 point in the three games combined. It's just one of those situations where it seems they have our number. This year will be different.


First off, TCU won't have the luxury of having Andy Dalton at the helm. The guy carved up our defense in his sleep. The Horned Frog offense won't be nearly as potent this year and they will have a lot of underclassmen taking on key roles. They will be good, just not great.

Second, BYU will have an offensive coordinator not named Robert Anae. Brandon Doman will be able to game plan better for opponents than Anae, who refused to change things up depending on who they played. When playing TCU, the old OC wouldn't account for TCU's amazing team speed and strength. He called the same tired plays that worked against Northern Iowa but, gee golly, were ineffective, against TCU. These are finally two very different teams and BYU will have the advantage.

--Jake Welch, Cougaracity contributor
Twitter: @jraywelch